Functional NeuroCognitive Imaging (FNCI)
Notus NeuroCogs™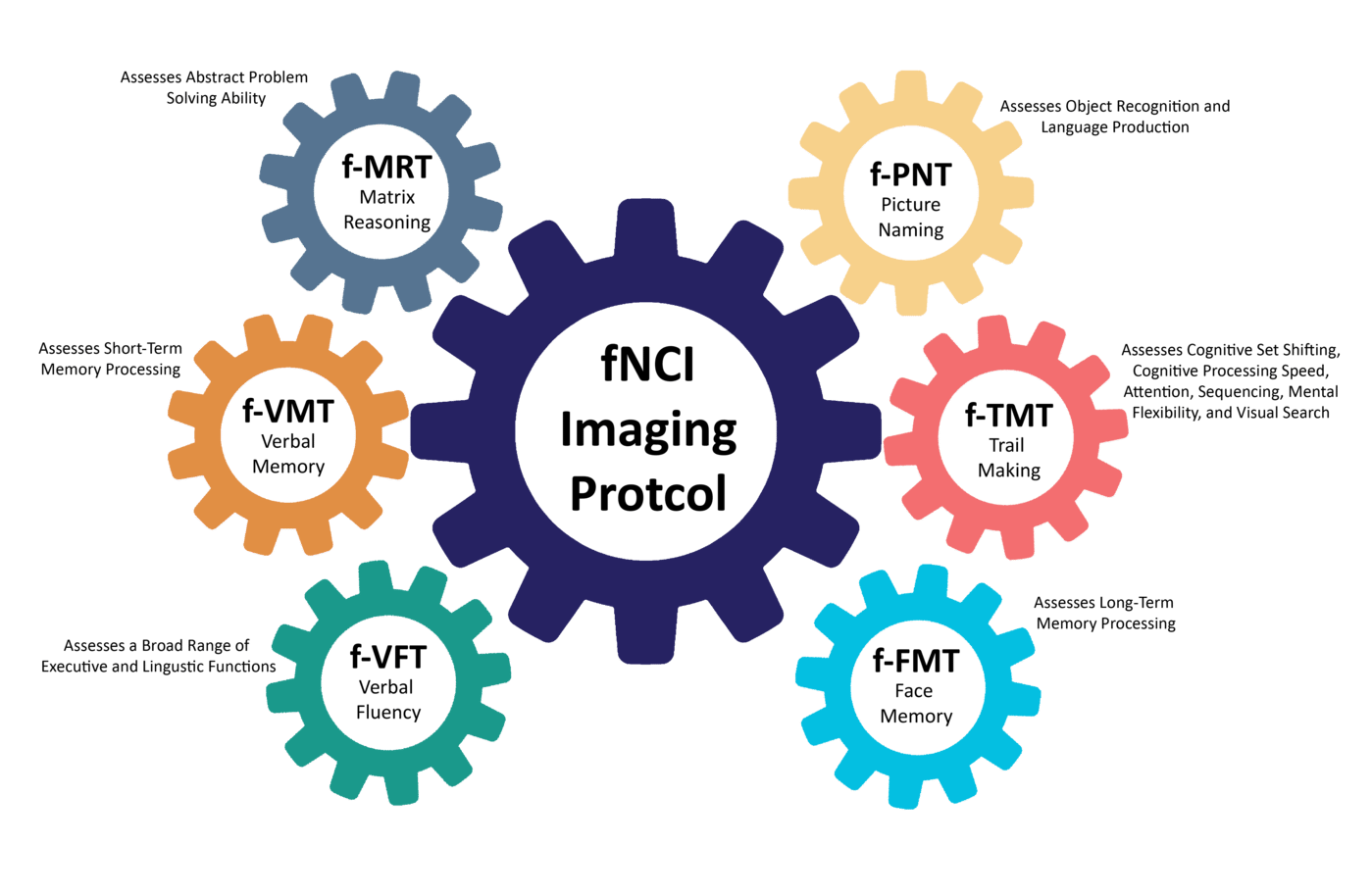 Patients receive a personalized Enhanced Performance in Cognition (EPIC) Treatment program, prioritizing dysfunctional regions of interest, while drawing on strengths of each unique concussion profile using a standardized protocol.
Rehabilitative Measurements
fNCI-directed Measurements & Conventional Self-Report Measures
Severity Index Score (SIS)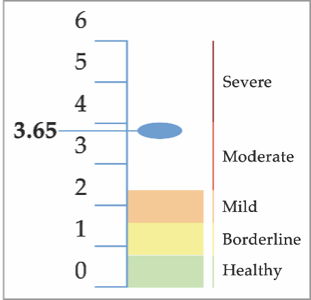 Post-Concussion Sympton Scale (PCSS) Score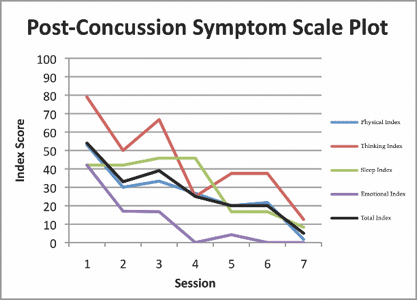 SI and PCSS measures are calculated pre- and post-treatment to direct neurorehabilitation and assess patient outcomes.
Positive Outcomes
Average outcomes are reported for a population of 250 patients.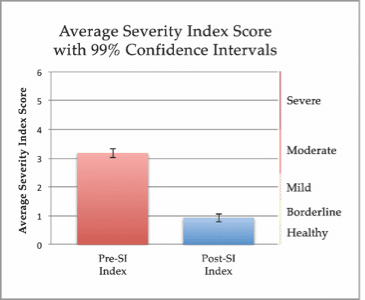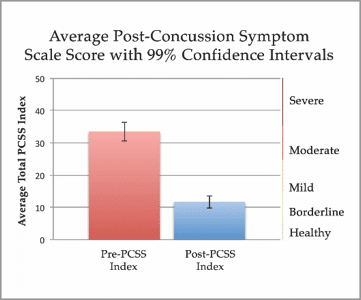 Multiple methods of targeted cyclical, and sustained procedures, as directed by fNCI and a multi-disciplinary team, provide optimal, individualized treatment.
Levels of Improvement
Improvement outcomes are plotted in successive thresholds.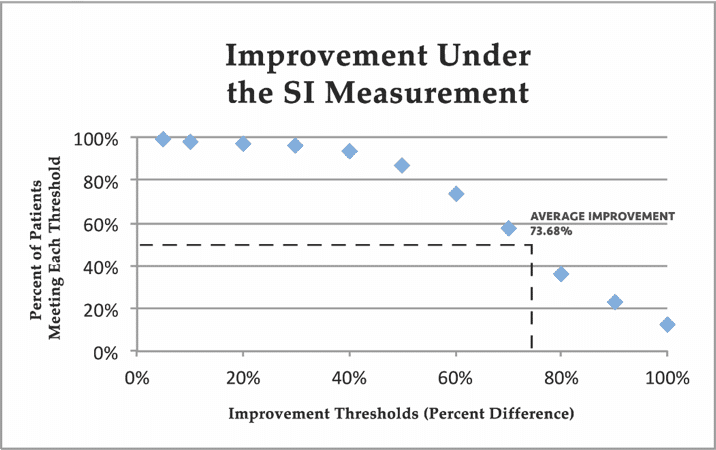 Objectively, 93.57% of our patients improve by 40% or more.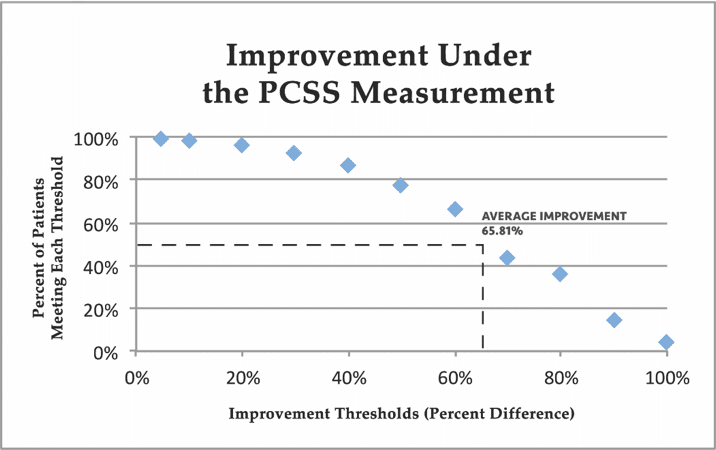 Subjectively, 87.13% of our patients improve by 40% or more.
Improvement, in a broad sense, was been observed in 99.6% of objective measures (fNCI) and 99.2% in subject measurements (PCSS). The degree of improvement varied from 3.24% to 157%. Consequently, to address this complication, we established incremental improvement thresholds and report the total percentage of our patients that meet and/or exceed such thresholds. Average improvement is also graphically visualized.
Treatment VS No Treatment
36.4% of concussed individuals who opt-out of treatment get worse over time.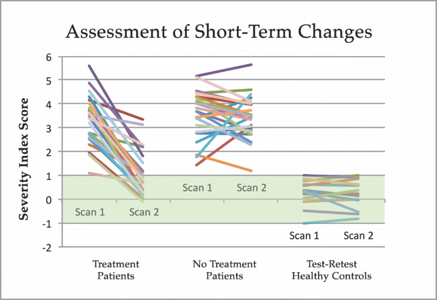 Only 0.4% of those who undergo treatment worsen under fNCI measures.
Longitudinal Outcomes
Looking at Long-Term Changes & Results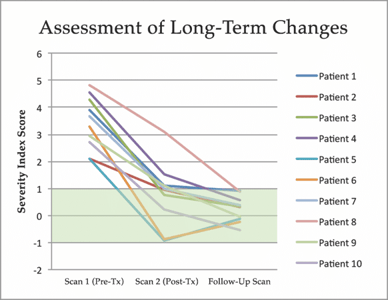 Longitudinal studies continue to reveal lasting improvement on follow-up fNCI measurements for patients at an average of 8.8 months post treatment.
Conclusions
We present practice base evidence for the standardized application of fNCI for neurorehabilitation, particularly for mTBI.
Outcome measures using both brain activation and traditional metrics demonstrate its clinical effectiveness across varying concussion demographics in both short-term improvement (1-2 weeks) and long-term symptom recovery (6-12 months).
Authors
Benjamin H. Wing1,2, Lindsey R. Holbrook1, Daniel C. Sands1, Keifer L. Weiland1, Alina K. Fong1,3, Mark D. Allen1,2
1Cognitive FX Provo, UT; 2Notus Neuropsychological Imaging, Orem, UT; 3Utah Valley Regional Medical Center
References
Allen & Fong (2008). Clinical Application of Standardized Cognitive Assesment using fMRI. I. Matrix Reasoning. Behavioral Neurology, 20, 127-140.
Allen et. al. (2012). Assessment of Brian Activity During Memory Encoding in a Narcolepsy Patient on and off Modafinil Using Normative fMRI Data. Neurocase, 18, 13-215.
Fill Out the Paperwork to Schedule Your Complimentary Consultation
Get Started Here