Subscribe
From Wrestling Concussions to Rock n' Roll: How This Guitarist Found Healing from Post-Concussion Syndrome
Patient Stories | Testimonial Topic - Young Adult | Concussions | Post Concussion Treatment
Chris Nicastro's head was pounding. He opened his eyes, wincing at the bright lights from the bathroom vanity. It took a few moments for him to remember where he was: sprawled on the floor after fainting out of the blue. As he realized he hit his head — now for the fourth time — his heart sank. Another concussion.
Chris already had enough experience with concussions to know they were no joke. Less than a year before, he quit wrestling because it took six months after his second concussion to recover from the extreme mental fatigue, light sensitivity, and headaches. He didn't want to risk any long-term symptoms by sustaining more head injuries.
Unfortunately, it was already too late for that. And the stress of impending college, combined with his still-symptomatic brain, pushed him straight into yet another concussion.
As the months rolled on, he wondered if he would ever recover again. It took a year of going from doctor to doctor, resting but not healing, and doubting himself before he finally found the treatment that worked for him.
Chris playing guitar.
Now, the young adult from Plainville, MA, who couldn't stand bright lights and loud noises just finished recording his first single with The Sleds, his rock 'n' roll band. They just played their first live gig at a local bar. And most importantly, he's able to attend college classes while juggling extracurriculars the way he used to.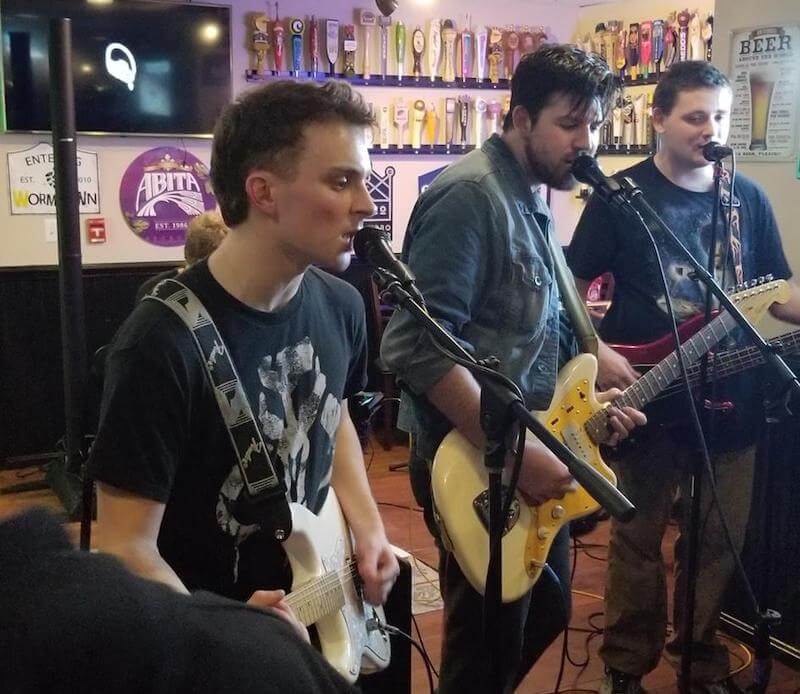 Chris (left) plays a gig with his band, The Sleds.
Note: If you're experiencing symptoms that won't resolve after a traumatic brain injury, you're not alone. And you're not crazy. On average, our patients improve by 75% after treatment at our center specializing in post-concussion therapy. To see if you are eligible for treatment, sign up for a free consultation.
How It All Started: Chris' Wrestling Concussions
Here's some irony for you: Throughout his youth, Chris played football and never got a single concussion. But in high school, he became a wrestler … and proceeded to get two. It just goes to show that you don't have to be a football player to get a sports concussion; anyone can get one.
The first concussion happened during practice. Chris' head slammed against the mat during a takedown. But it healed within one or two weeks, and he didn't pay it much heed. So when that happened a second time during a tournament, he didn't think much of it either.
"I thought, 'Oh crap; probably got a concussion; whatever. I'll finish this match, then take a week or two off.' But I had post-concussion syndrome for six months after that," he said.
It happened during his junior year of high school, and for the rest of the school year, his teachers gave him make-up work and helped him progress as best he could. But with concussion symptoms like headaches and severe mental exhaustion, pushing through the school year wasn't easy.
"The best way I can describe it is when you're lifting weights and you've done a certain amount of reps, you get to the point where your muscles can't physically lift the weight anymore. Your body just can't. To me, it feels like that, but in your brain. It's as unpleasant as it sounds. When people say 'brain fog and headaches,' it feels like your brain is maxed out and can't push anymore," he said.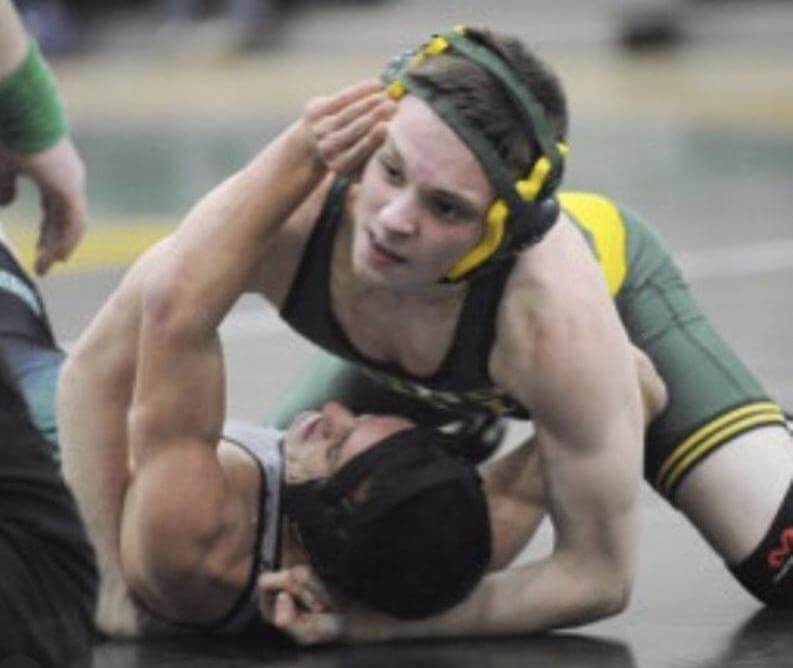 Chris during a wrestling match.
When he finally felt well enough to return to school, he quit wrestling — a decision he didn't want to take but which he felt was necessary. He did not want to put his mind at risk again.
Unfortunately, he got another concussion the summer after his senior year. And just a few months later, in November 2016, he passed out and hit his head on the floor.
Searching for Answers After the Fall
His response after waking from his fall was one many concussion patients have tried. "I guess I'm going to go lie down in a dark room and take it easy and hope for the best," he remembered thinking.
A few days later, the doctor he saw told him to keep resting. Unsatisfied and afraid of what the future might hold, Chris retook his ImPACT test. He had taken one in high school and wanted proof he really had a concussion (to be clear, he knew he had a concussion but was in denial about it at the time). He failed the test miserably.
After that came months of visiting doctor after doctor, postponing college in the hopes of recovery, and wondering if he would ever be the same again.
"Thank God for my mother," Chris sighed. "I owe her infinitely for this. I mean, she drove me to so many different doctors and specialists, 'concussion experts'... We did physical therapy, we did acupuncture, chiropractors — you name it. We did everything."
None of it helped. He spent the days counting down to six months post-injury since that's how long it took him to recover from the second concussion. That day came and went. His symptoms didn't improve.
During that time, he could do very little. Sometimes, he would pick up his guitar — which he's been playing for over ten years — and strum some chords for a few moments, just to reclaim his ability to feel something. "It was always taxing to play because of the noise and the mental effort it takes to play an instrument, but it was my lifeline, you know?" he said.
Then one day, while searching for post-concussion treatment options, he found the Cognitive FX website. "I remember reading about it and my first reaction was, 'This is bull$%#,'" he laughed.
He struggled with the idea that just one week of treatment could rewire his brain, especially because the doctors he'd previously seen implied that post-concussion syndrome recovery was a slow, gradual process in the brain — if it even happened at all.
But as he read more on the subject and watched the video testimonials on Cognitive FX's website, he began to think that maybe it could work. He pitched the idea to his parents — who were also skeptical — and signed up for a free consultation.
"My dad asked tons of questions on the call because he's naturally skeptical," Chris laughed. "But by the end of it, they were convinced enough to give it a shot, even though we had to fly in from Massachusetts."
Treatment at Cognitive FX: "It Was a Huge Relief to Have Tangible Proof"
When the time came, Chris flew out to Utah and had his first brain scan.
Note: While we do perform a structural brain MRI, that is not the key scan that informs the patient's treatment plan. We perform a functional neurocognitive imaging scan (fNCI) that looks at how your brain uses its resources while you take a set of cognitive tests. You can read more about the difference here.
Chris' scan showed evidence of damage in several parts of his brain. Some of the doctors he sought treatment from previously implied that perhaps he had a mental illness and that his symptoms stemmed from anxiety or depression, rather than a "real" brain injury.

"Sometimes I would wonder, am I going crazy?" he reflected. So when Dr. Fong showed him his scan results — proof that his illness was real — it was a powerful moment.
"No one was ever able to tell me anything concrete before then," he said. "It was super validating to see there was actually a physical discrepancy in my brain. That was awesome. But also kind of scary because there's a physical discrepancy in your brain."
Never Say No
Chris approached the treatment week with determination. He decided that he would never say no to what they told him to do (not a requirement of CFX's treatment program!) because he wanted to get the most out of his week there.
He pushed through to each scheduled break, trusting that the doctors and therapists would act in his best interest.
Admittedly, he was nervous — and a little scared. His parents paid for the treatment and his flights, so he knew there was a lot of money on the line.
The week was hard on him since he arrived with very little ability to do cognitive work; meanwhile, treatment involved both physical and cognitive tasks, with back-to-back appointments throughout the day. He loved the moments when he was able to rest in a dark room while listening to the soothing background music and "brainwaves" (binaural beats).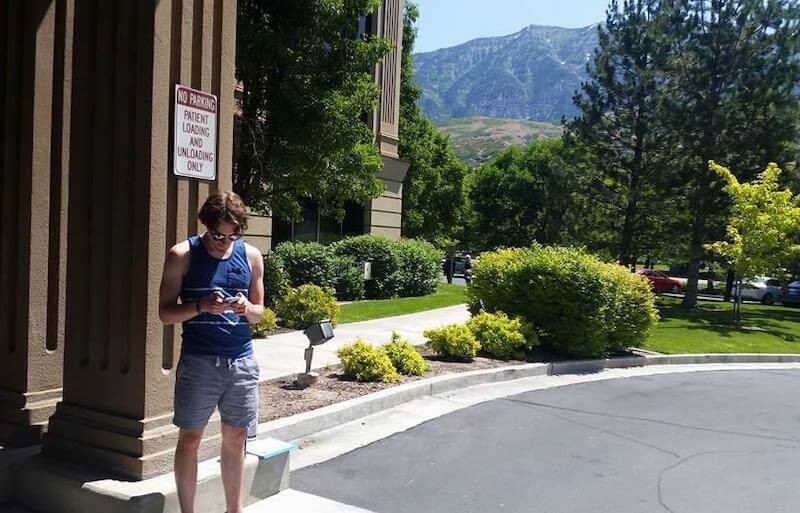 Chris waiting outside the Cognitive FX treatment center in Provo, Utah.
That said, he thought the therapy he completed was really cool. Dynavision — a board with concentric buttons that light up in various patterns determined by the therapist — was one of his favorite tasks (despite how hard it was for him).
"You stand on the Bosu ball, and you have to hit the lights when they light up, but you're doing things like reciting the alphabet backwards and all this crazy stuff at the same time. It's hard. Your body and your brain are a lot more powerful than people give them credit for," he reflected. "You can do something like that and push your brain to the point where it rewires."
Seeing — and Feeling — the Results
But as the week progressed, he didn't feel like his brain was changing. His symptoms were still present, and he felt tired all the time. At the end of the week, as he headed into a meeting to get the results from his second fNCI scan, he was sure that it hadn't worked.
But the data told another story. "I was so frustrated going into my meeting with Dr. Fong because I didn't feel any better," he began. But his results showed significant improvement.
"It was a huge relief that no one else could offer me: tangible proof of change, proof that I did something good, and that, according to the scans, I was back to normal. That blew my mind, because there was a point in time where I was terrified I was never going to be normal again," he continued.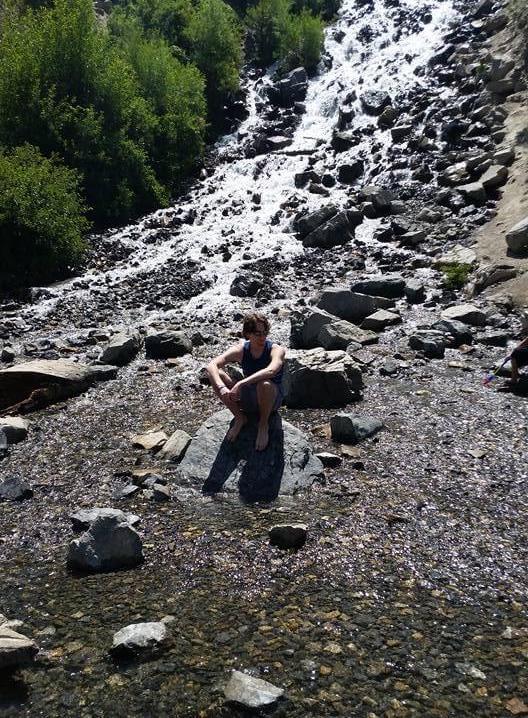 Chris exploring a waterfall.
Even so, he had his doubts. The flight home was tough, and his first morning back, he still had a headache. But just two days after returning home, he decided to test his limits by going to a party.
"In spite of the voice in my head saying, 'You shouldn't go to this. It's going to hurt your brain.', I went to a 4th of July barbecue. If I had done that a month before, it just would've killed me. I had tried doing things like that when I had my concussions, and it always just killed me because there's so much stimulation; even just having conversations with people is absolutely exhausting. But I went anyway," he recalled.
"I wasn't sure how it was going to feel, but then four or five hours passed. And I just sat back and realized, 'Wait, I feel totally fine!' And I have literally felt fine ever since. That was a pretty beautiful moment when I realized I could hang around at this barbecue longer than 30 minutes," he said.
Grateful for a Second Chance
Chris admitted he views himself as one of the lucky ones — not everyone makes a full recovery, and not everyone manages to recover immediately after treatment. Sometimes it takes more time.
As for Chris, he's back in the thick of life.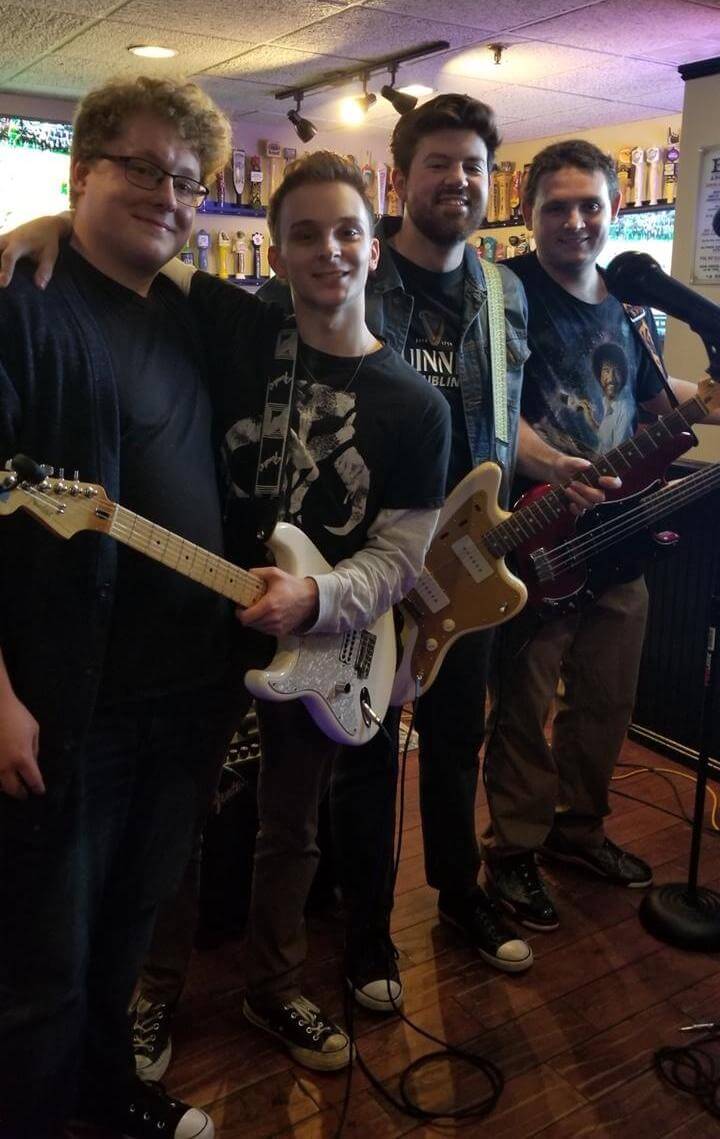 Chris (second from left) with his bandmates.
"Even now, I sometimes forget just how precious existence is and how thankful I am. I have to remind myself to be thankful when things are frustrating in my regular life because it's a beautiful thing that I'm able to do this stuff again. Because honestly, if I didn't find a place like Cognitive FX, who knows if I'd be feeling this way," he said.
"There's a quote I remember reading," he continued, "that goes like this: 'A healthy person has many wishes, but an unhealthy person only has one.' And that's so true. Because when you're normal, you want so much and take everything for granted. But when you deal with something like post-concussion syndrome, all you want is to get better."
Now, he wants everyone to know there is hope: You can recover from post-concussion syndrome. It may not look exactly like his story, but you can get better.
His advice for patients headed into Cognitive FX for treatment?
"Give it 100%, and good things will come," he urged.
Note: If you're experiencing symptoms that won't resolve after a traumatic brain injury, you're not alone. And you're not crazy. On average, our patients improve by 75% after treatment at our center specializing in post-concussion therapy. To see if you are eligible for treatment, sign up for a free consultation.
About Olivia Seitz
Olivia is a content strategist at Grow & Convert. She loves science, cats, swing dancing, and telling stories.