Subscribe
Multiple Concussions: Long-Term Effects and Treatment Options
Concussions | Traumatic Brain Injury | Education & Resources | Post Concussion Treatment
If you're like the majority of people who have had a concussion, then you likely recovered a few weeks afterward and have felt fine ever since then. Concussive symptoms typically resolve in 7 to 10 days (sports-related concussions) or within 3 months (non-athletes). But not everyone is that fortunate: up to 30% of post-concussion patients have lingering symptoms that don't go away with time and rest.
And even if you do recover and walk away with no long-term symptoms, it isn't without consequence: You will always be more susceptible to another concussion than someone who hasn't had one, particularly during the first year after your concussion.
Many people (especially athletes) who have had one concussion go on to have more. According to a study in the Journal of American Medical Association, athletes who have sustained one mTBI are more susceptible to further brain injuries (Guskiewicz et al. 2003). And your experience recovering after multiple concussions may not be as smooth: With every concussion, your chances of long-term symptoms (post-concussion syndrome) increases.
At our concussion treatment clinic, we've treated many patients with repeated concussions whose symptoms did not simply go away with rest, as their doctors assured them they would. This article addresses the questions and concerns those patients had when they came to us. We'll cover:
If you're experiencing symptoms that won't resolve after multiple concussions, you're not alone. And you're not crazy. On average, our patients improve by 75% after treatment at our center specializing in post-concussion therapy. To see if you are eligible for treatment, sign up for a free consultation.
The Long-Term Effects of Multiple Concussions
In this section, we'll discuss what a concussion does to your brain and how multiple concussions play into that equation. We'll also go over the symptoms of multiple concussions so you know what to look for.
How Do Multiple Concussions Affect the Brain?
A concussion (also known as a mild traumatic brain injury, or mTBI) can come from jostling, shaking, or hitting your head. When you experience head trauma, your immune system causes inflammation near the site(s) of injury. Regions of your brain affected by the concussion suffer from a temporary breakdown of tiny structures in and around those cells.
During that time, those cells don't get enough oxygen to power the normal signaling your brain does on a regular basis. When you try to do something that those cells govern — like reading or balancing — they won't be able to accomplish the task. So, other neural pathways will pick up the slack, even though it's a less efficient path for that information to take.
If you've fully recovered from a head injury, your brain will go back to using the normal pathways for any given process. Unfortunately, that doesn't always happen. Sometimes, impacted cells are still unable to call for enough oxygen to complete the processes that they used to do. Usually, that suboptimal signaling produces long-lasting concussion symptoms.
The more times you've experienced brain trauma, the more likely you are to have long-lasting symptoms because of your brain's failure to return to normal. The long-term effects of repeated concussions can be responsible for everything from headaches to personality changes to forgetfulness. This condition is often known as post-concussion syndrome.
Repeated brain trauma can also disrupt healthy functioning of your autonomic nervous system, which we've addressed in the linked post.
Understanding Suboptimal Signaling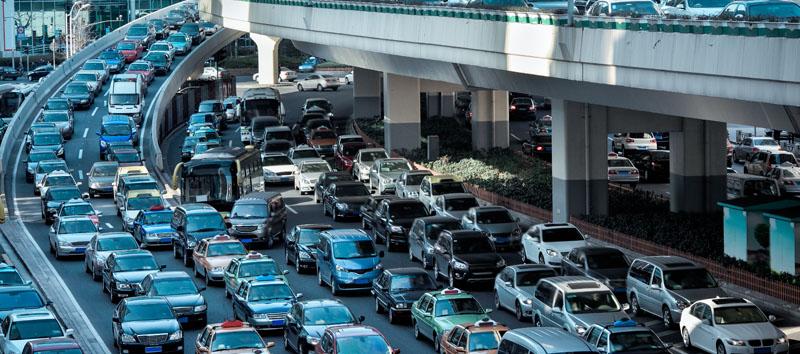 Suboptimal signaling pathways in your brain are similar to the different routes you can take on your commute home. Some roads just have more traffic than others. If you have to drive around an accident, you'll take longer to get home. And if you get stuck in a traffic jam, who knows how long the trip back will take (assuming you don't just give up and eat dinner at a restaurant while you wait). In those situations, you end up tired and frustrated. What should be an easy trip home, isn't.
During healthy brain function, communication "traffic" — i.e., the signaling needed for a task like reading — would be equally distributed along existing pathways. Information needing to take a suboptimal pathway is like getting stuck in a traffic jam or having to take the long way around. The impacted cells can't call for enough blood flow (and thus oxygen) to do their jobs, so other cells have to do the job for them.
The more your brain has to use suboptimal pathways, the more tired it becomes. It's more likely for you to have symptoms. And with multiple concussions, there are simply more opportunities for that to happen. (Note that severity depends on the individual patient.)
The good news is that those pathways can be mended — just not without a combination of physical and cognitive therapy under the direction of a trained medical professional. We'll talk more about that in the "How to Treat Post-Concussion Syndrome" section below.
The Symptoms of Multiple Concussions
The symptoms of multiple concussions are the same as the symptoms of one concussion. Multiple concussions over time just mean the effects of a concussion (especially long-term symptoms) are more likely to be noticeable and may take longer to resolve. Symptom severity depends more on the individual — things like genetic predisposition, for example — than on how many concussions you've sustained.
We've written at length about concussion symptoms, so we won't reproduce all of that here. For reference, here's the symptoms of a concussion checklist we created: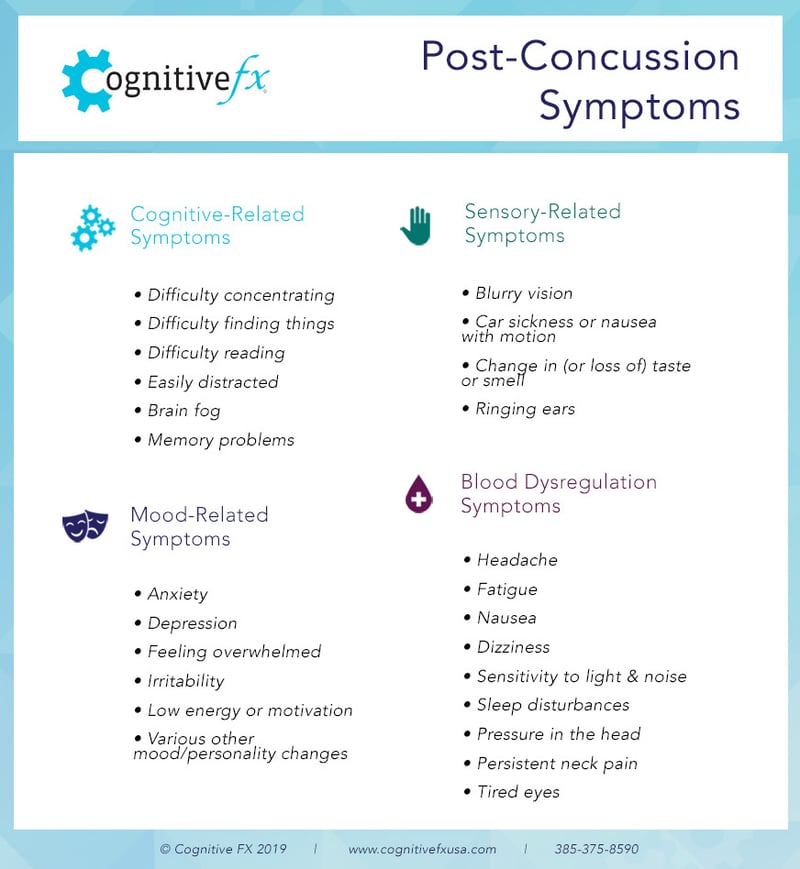 Cognitive impairment from head trauma can present in many ways — short-term memory loss, "foggy" thinking, blurred vision, difficulty finding things… As you can see above, the list is extensive. But lingering concussion symptoms aren't limited to the cognitive: You may find you have balance problems, experience heartbeat irregularities, or get carsick (when you didn't before your concussion).
While the cumulative effects of repeat concussions can produce an increase in number or severity of lasting symptoms, that isn't guaranteed. Some patients who have experienced just one concussion suffer worse symptoms than patients who have sustained multiple previous concussions. While you might think that loss of consciousness at the time of injury is the best indicator for longer-lasting symptoms, that isn't the case. In reality, mental confusion at the time of your injury is the best indicator that you are at risk for long-term symptoms.
Can Multiple Concussions Cause Depression, Anger, or Memory Loss?
Yes, multiple concussions can cause depression, anger, memory loss, and other symptoms that make you feel unlike yourself, this includes an increased risk of suicide (Byran and Clemans, 2013). Brain damage from a concussion can cause lasting emotional symptoms that do not resolve without treatment. Or, they may make existing struggles worse.
Searching for a diagnosis after one or more concussions is difficult, to say the least. Many doctors will ignore emotional symptoms or tell you it's all in your head. And while you may find helpful coping mechanisms from a psychologist, you won't get treatment that fixes the root cause (if it's from a concussion). That cycle of being told you're crazy — or that no one can help you — only makes symptoms worse.
Note: Many of our patients were told that their condition is untreatable. That's not true. Post-concussion syndrome is not a condition that many doctors treat, but it is often treatable. There is hope. To learn if you're eligible for treatment, schedule a free consultation with our staff.
Repeated Concussions in Athletes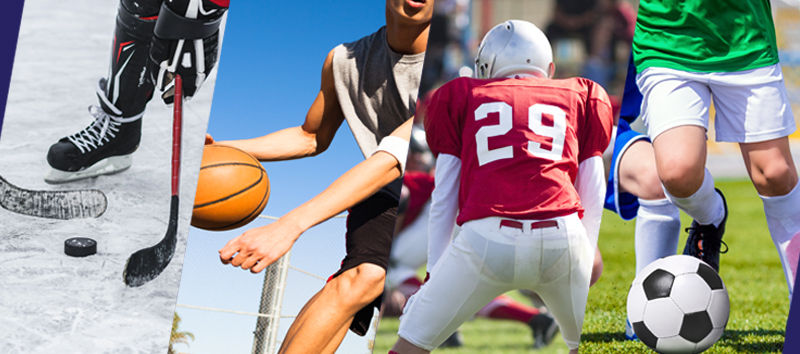 Athletes — especially those who play contact sports like football and hockey — are at higher risk for multiple concussions than the general population. If you're an athlete recovering from a concussion, do not return to your sport until you are fully healed. Follow the return to play protocol found on the website of the Centers for Disease Control and Prevention. Whether you're a high school athlete, college athlete, a retired athlete, or still competing later in life, the dangers are the same.
Unfortunately, sustaining one concussion means that you are at risk for more. During recovery, your brain needs time to heal. Head trauma could affect coordination, balance, and other skills needed to keep you safe during practice. You're more likely to get another concussion when those abilities are compromised.
It's worth noting: if you sustain a second concussion while recovering from the first concussion, you risk longer-lasting symptoms and brain damage. In extremely rare cases, some patients die from "second impact syndrome," a condition we don't fully understand, that involves a rapid swelling reaction in their brains. Never return to sports before your concussion has healed.
Even when you've healed from your first sports concussion, you are still more likely to get another concussion. So what does that mean for you? It means you have a decision to make. If you're ambivalent toward your sport, you could choose to play a sport with lower concussion risk. If you love your sport and want to continue playing, you should evaluate how you practice and perform. Are there steps you can take to reduce your chances of concussion? Can you take fewer risks?
Above all, don't let anyone — be it your coach, your teammates, or yourself — push you into doing something you're uncomfortable doing. It's not worth the risk to your safety.
What About Dementia Risk in Athletes?
If you're a serious athlete who has sustained multiple concussions, you may have been told you're at a higher risk of developing a neurodegenerative disease later in life. Recent studies have shown a link between multiple sports concussions and chronic traumatic encephalopathy (CTE), a kind of dementia. Some researchers have found that traumatic brain injuries can be a trigger for changes in the brain present in those with Alzheimer's disease.
While there may be a link between sustaining head trauma and developing Alzheimer's later in life, there is much we still don't know. We also don't know if treating lingering post-concussion symptoms could decrease the risk of developing dementia as a result of previous concussions.
How to Treat Post-Concussion Syndrome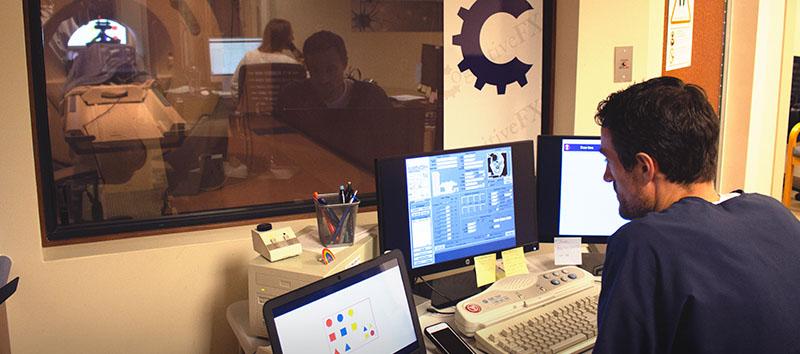 Even if you've sustained multiple concussions over time, the kind of treatment you need is the same as for someone who has only sustained one concussion. However, that doesn't mean your treatment regimen will look the same as another person's. The specific therapies you need depend on where the damage in your brain is along with what kind of suboptimal signaling you're experiencing.
Let's back up for a moment. In the section above, we explained that your brain might create suboptimal pathways in order to avoid injured sections of your brain. Those areas could be hypoactive (underperforming) or hyperactive (overperforming — to the extent that your brain "burns out" faster). From a symptoms perspective, the two often look the same. But from a treatment perspective, they're completely different.
Patients who attend our clinic for post-concussion treatment all go through a battery of testing to reveal exactly which areas of their brain are affected in which way. In 2013, The American Medical Society for Sports Medicine (AMSSM) issued a position statement endorsed by the National Trainer's Athletic Association and the American College of Sports Medicine regarding concussion in sports, stating that "evolving technologies for the diagnosis of concussion, such as newer neuroimaging techniques or biological markers, may provide new insights into the evaluation and management of sports concussion." The publication then mentions fMRI specifically, stating that "abnormal patterns of [fMRI] activation have been noted in several studies of sports-related concussions." (AMSSM, 2013). Most of our information comes from doing an fNCI, which shows us how blood travels through your brain when you perform various tasks.
We use that information to create a custom treatment plan to target the areas of your brain that need help. Patients spend the next week doing physical and cognitive therapy designed to repair the damaged pathways in your brain. Currently, there is no other method that successfully repairs brain damage from post-concussion syndrome. Whether you've had a history of concussions or just one, this treatment repairs lingering damage from the concussion.
Conclusion
If you're experiencing symptoms that won't resolve after multiple concussions, you're not alone. And you're not crazy. On average, our patients improve by 75% after treatment at our center specializing in post-concussion therapy. To see if you are eligible for treatment, sign up for a free consultation.